A recent phishing scam has been making its way through Christian churches and denominations recently, and many of our Brethren leaders, members, and churches report being recipients of the scam. 
The general framework involves the scammer posing as a Brethren pastor or other known leader (we've even seen attempts to impersonate Brethren Executive Director Steven Cole) and soliciting "help" through wire transfers or gift cards. This is a well-documented scam, and Brethren worldwide has received these fraudulent attempts. 
The Brethren Church National Office is aware of at least one successful scam, where a Brethren pastor was impersonated, and a church member was defrauded. 
Pastors and leaders, please educate your congregants and make them aware of this scam. Please practice vigilance, and when in doubt, exercise extreme caution. The US Federal Trade Commission issued a warning about scams such as these in 2019, where the scammer would pose as a bishop, denominational leader, pastor, rabbi, etc., in an attempt to solicit financial contributions. The US Church of the Nazarene issued a warning just last week, as many of their members were being targeted. 
For Brethren—a people marked by a desire for close personal relationships—this type of scam is especially insidious. It preys on our values and weaponizes them for fraud. The Brethren Church National Executive Board and The Brethren Church National Staff are aware of these scams making their way through our congregations. We're committed to keeping our congregations and leaders safe. We are also committed to keeping our relational connections alive, despite the new reality in which we find ourselves. 
If you or your congregation encounters this type of fraud or any other, please contact local law enforcement, and report it to the Federal Trade Commission immediately using this link: http://reportfraud.ftc.gov. We would also appreciate being notified at The Brethren Church National Office as well (communications@brethrenchurch.org). 
Resources to Help Protect Brethren
Thankfully, our friends at Everence Financial have provided some wonderful tools to help protect our Brethren membership. Everence has provided two wonderful webinars to help educate and protect you: "Scam-proof Your Finances" and "Senior Fraud Prevention". 
Please avail yourself of these wonderful videos. They are short in length (20-30 minutes) and provide an incredible amount of education and value. Be sure to pass them along to your membership as well!
---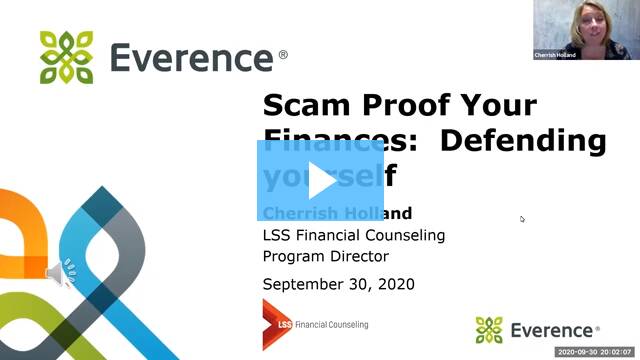 Scam proof your finances: Defending yourself
---